Straight talk about side effects.
As with any medication, it's important to talk to your doctor about the possibility of side effects with VYONDYS 53. Here's what you should know about side effects experienced by those receiving VYONDYS 53 in clinical studies.
Allergic reactions can happen.
Allergic reactions have been noted in patients treated with VYONDYS 53, including:
Rash
Fever
Itching
Hives
Inflammation and/or peeling of the skin

 

 
Seek immediate medical care if signs and symptoms of allergic reactions happen.
Kidney Monitoring for Safety
Damage to the kidneys was seen in animals who received golodirsen. Although damage to the kidneys was not seen in clinical studies with VYONDYS 53, the clinical experience with VYONDYS 53 is limited. Fatal kidney damage has occurred with other drugs that work in a similar way. Your doctor may recommend urine collection and blood testing before starting treatment followed by urine testing every month and a blood test every 3 months to monitor your kidneys.
Common side effects.
Side effects observed in at least 20% of treated patients and greater than placebo were (VYONDYS 53, Placebo)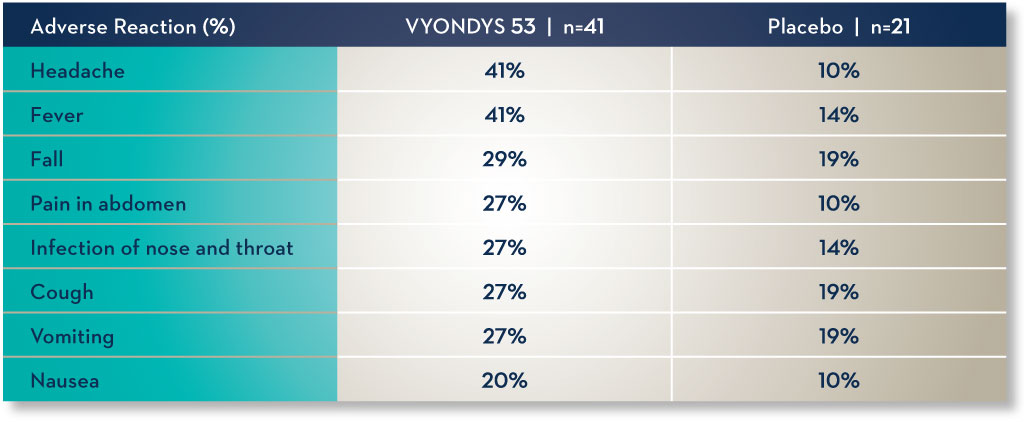 Other Side Effects
The following side effects occurred in greater than 5% of patients who received VYONDYS 53 and more often than in patients who received an inactive IV infusion:
pain at the IV site
back pain
pain
diarrhea
dizziness
stretch or tear in a ligament
bruising
flu
pain in the mouth and throat
stuffy or runny nose
scrapes or scratches of the skin
ear infection
seasonal allergy
fast heartbeat
reactions related to the IV catheter site
constipation
broken bones

 

 

A phone call away
As with any medication, please talk to your doctor if you experience any side effects from VYONDYS 53. We encourage you to report negative side effects of all prescription drugs to the FDA. Visit www.fda.gov/medwatch or call 1-800-FDA-1088. You may also report side effects to Sarepta Therapeutics at 1-888-SAREPTA (1-888-727-3782).
Please see the full Prescribing Information for VYONDYS 53 (golodirsen).
Related FAQs
Is the treatment effective?
Weekly infusions of VYONDYS 53 helped the body make a shorter form of the dystrophin protein in some boys. View the results from clinical studies.
VYONDYS 53 is used to treat patients with Duchenne muscular dystrophy (DMD) who have a confirmed mutation in the dystrophin gene that can be treated by skipping exon 53.
This indication is approved under accelerated approval based on an increase in dystrophin production in skeletal muscle observed in patients treated with VYONDYS 53. Continued approval for this indication may be contingent upon verification of a clinical benefit in confirmatory trials.